1. "You Are Looking at Something That Never Occurred", this title a priori puts the visitor into a particular state of mind. Where this title is coming from?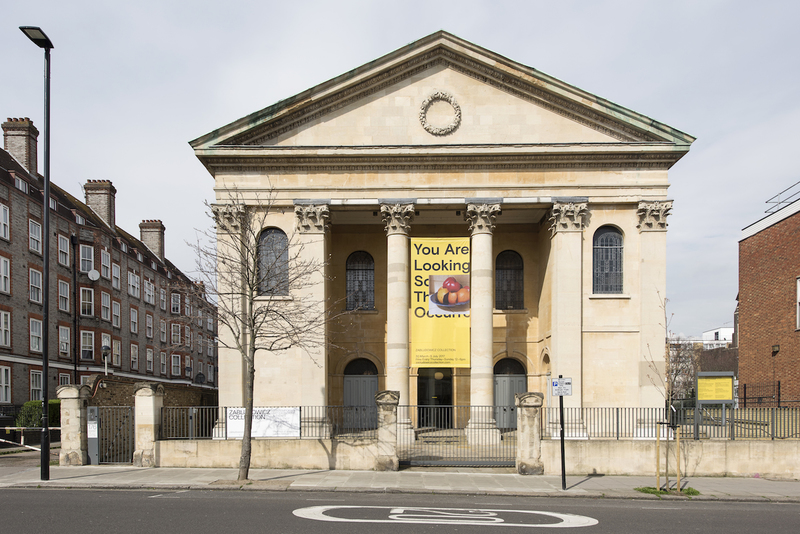 I was interested in finding a title that raised the ideas of fact and fiction, and the power and mistrust of the lens-made image. Photography can be felt to be a very authoritative document, but is also often mistrusted in its ability to convey a truth. I came across the phrase 'you are looking at something that never' used by Jeff Wall in a conversation with fellow artist Lucas Blalock, published in 2013 by aperture magazine. Wall was arguing for a type of art that is surprising and strange, seeming to emanate from beyond our everyday reality. He cites André Breton's Surrealist term of 'occultation' from 1929, meaning that art should pursue radical artistic experimentation and not worry too much about mass appeal. However, Wall also says that such an approach can result in a wide variety of styles of art, from the instantly recognisable and kitsch through the austere and abstract. Photography is so familiar to us today, and people make millions of images each day on camera phones, I was interested in this tension in the idea of how an artist can make us look more closely at an image that may at first glance feel instant or mundane.
2. What was the starting point for the selection of the artists and how is the exhibition organised?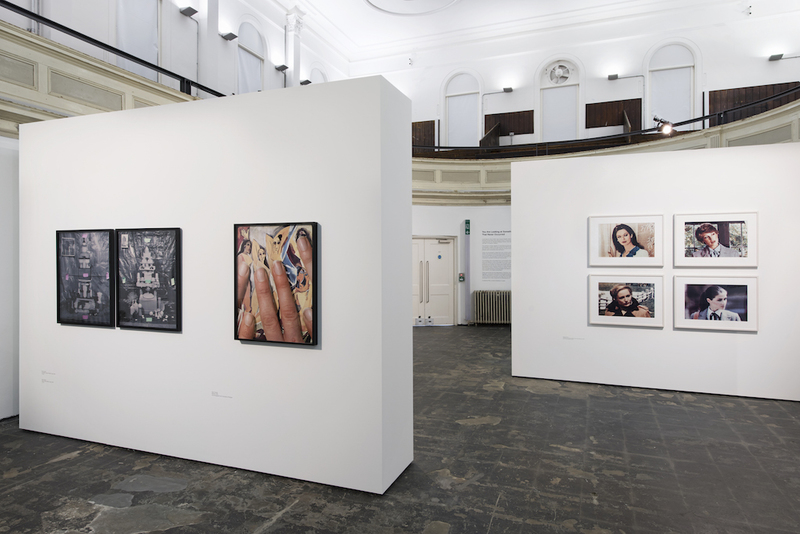 All the work are selected from the Zabludowicz Collection, and I wanted to show a generous range of some of the fantastic pieces it contains. The exhibition looks at a 40 year period of production, from 1977 to 2017, and presents 14 artists. This sounds quite a lot but there are many wonderful artists we made the tough decision to leave out! I wanted the exhibition to show the work of different generations of artists, and how ideas and influences filter down, or are reacted against. The arrangement of the hang is not chronological, and although it does start with an early work from 1979 by Cindy Sherman, is soon fast forwards to more recent work by the likes of Christopher Williams and Sara Cwynar. Hopefully the show indicates just how energetic and contested the debate around the role and possibilities for photography as an art form continues to be.
3. Why, do you think, the artists represented in this exhibition choose to work with the medium of photography?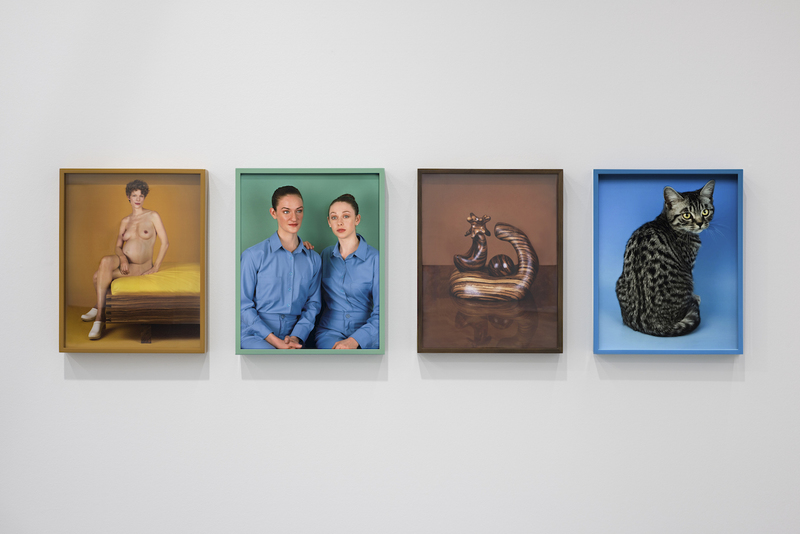 I am sure for each artist it is slightly different, but a few things recurred during my research and conversations with some of the artists. First, how we view the modern world has been shaped to a huge degree by photography and film (which pre-digital were moving individual stills of course). We see the world through the frame of the photograph. The identities of citizen and consumer became hugely powerful during the 20th Century, often articulated through the photographic image; we can think of news reports, advertising and cinema. So many artists who came to the fore in the 1970s and 80s were driven to analyse the effects of the mass production and circulation of images by appropriating them and shifting their context through copying, editing and rescaling.
Second, digital technology had led to an increase in image production, and an increase in how easily we can change and adjust images. This sense of images a fluid and fickle has been addressed by artists in diverse ways; constructing scenes in the studio, using Photoshop to draw over images, or put together still images into animated videos. Linking the artists in the show is an interest in scale and duration – both of production and of looking.
4. The first work we see, when we enter the show is the work by Cindy Sherman, which i believe is quiet rare and unusual. Could you please tell more about the work?
Untitled Film Still #41 (1979) is from Sherman's breakthrough series of 84 works produced 1977–80, inspired by female archetypes from Hollywood B movies and European film of the 1940s, 50s and 60s. Working in a spontaneous manner Sherman created the scenes in a variety of locations across the USA, with each one capturing her in various modes of disguise or character. The work in our show was shot in Arizona during a family trip, with Sherman's father enlisted to press the shutter button the artist posed hand on hips in a stripped playsuit and black curly wig. The grainy texture seen in the print is the result of the top coming off the can of film in the developing bath as Sherman worked in the dark room, so it is a fascinating indicator of how DIY the whole process was, despite some of the works from the Untitled Film Still series having near-iconic status.
5. The work by Jeff Wall in the first hall is beautifully, even theatrically staged. Why is it so? Could you please tell how it was made?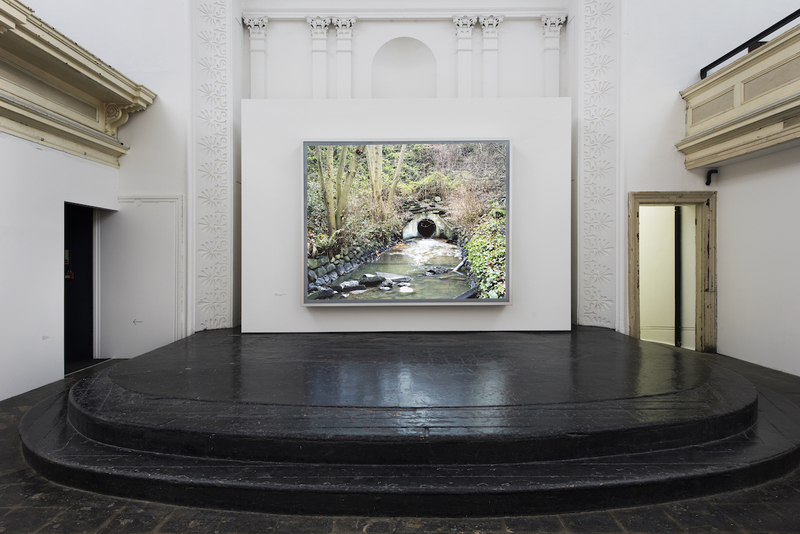 Still Creek, Vancouver, winter 2003 (2003) is certainly a very composed picture, and it has been suggested it references a painting by Cezanne called The Bridge at Maincy (1879). It is unpopulated by people, and is actually one of Wall least 'staged' images, and fits more it to the tradition of landscape photography. But Wall calls this mode 'near-documentary', and although it appears he might have come across this partially overgrown and graffiti-covered ditch by chance, the scene is actually a remake of sorts. In 1989 Wall shot the same location, but lit it more darkly, and added over the top using digital tools two adolescent girls in white dresses dancing across the stones in the foreground in front of the mouth of the tunnel. He called this work The Drain, and it is a piece emblematic of a 'cinematographic' style that he developed across many series, which are overly allegorical, full of suggested narrative and allusions to both history painting and scenes from early modern painting. Wall often presents his pictures are large transparencies in lightboxes, which have a sculptural presence and impact on the viewer's perception of detail and depth. So he makes connections to painting, scenes from cinema, and billboard advertising, while all the time asserting the importance of exploring the possibilities for photography in the gallery space.
6. There is a seperate room for works by Lucas Blalock, why did you seperated them this way? Was it your decision?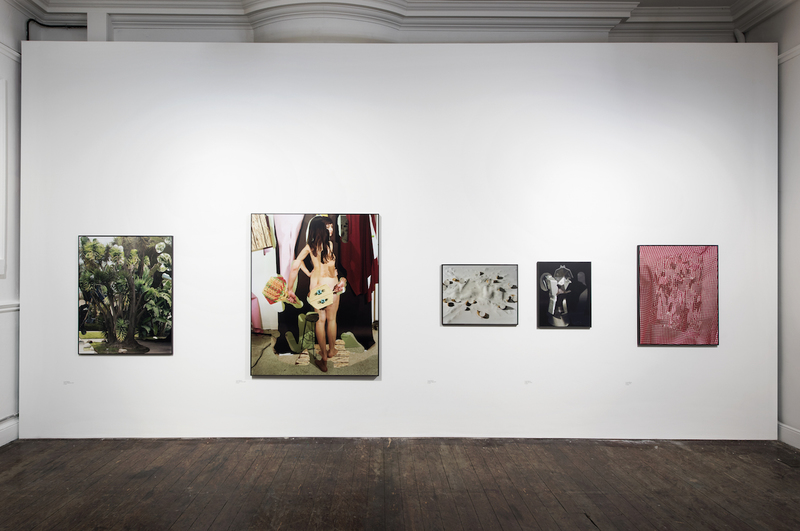 Yes, I was keen to profile Blalock's work because it's been influential on a number of artists in recent years. I felt the more intimate subject matter and scale of the works would suit our Middle Gallery which has a wooden floor and fireplace remaining from our building's past life as a Methodist Chapel. Although it is a group exhibition I was keen for there to be some space given to 'solo moments' that give the works some room to breathe.
7. What is your favorite work/artist of the exhibiton?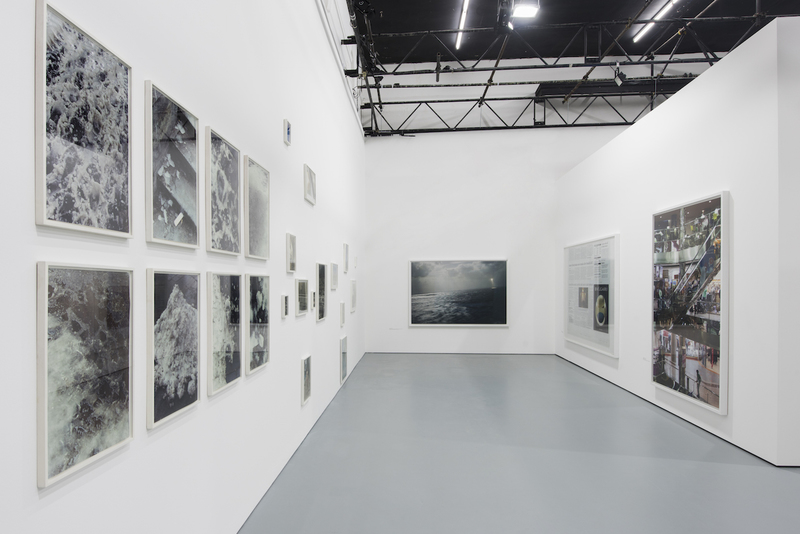 That's a tough one. I think Wolfgang Tillmans' work Italian Coastal Guard Flying Rescue Mission off Lampedusa (2008) is very important, and the most recent work added to the Collection for this exhibitions. On one level it is a beautiful Turner-esque grey sea-scape, but the scene depicted is of a helicopter searchlight scanning the Mediterranean or refugees in boats, and possibly in the sea. Tillmans chooses not to depict any people, and it feels as if he is asking questions both himself as an artist, and us as viewers, as to what responsibilities there are when traveling the world and recording moments and events that we can turn away from all too easily.
8. There are several works on display by artists who belong to German and Canadian schools of photography. Could you elaborate on the similarities and differences between the two movements, please?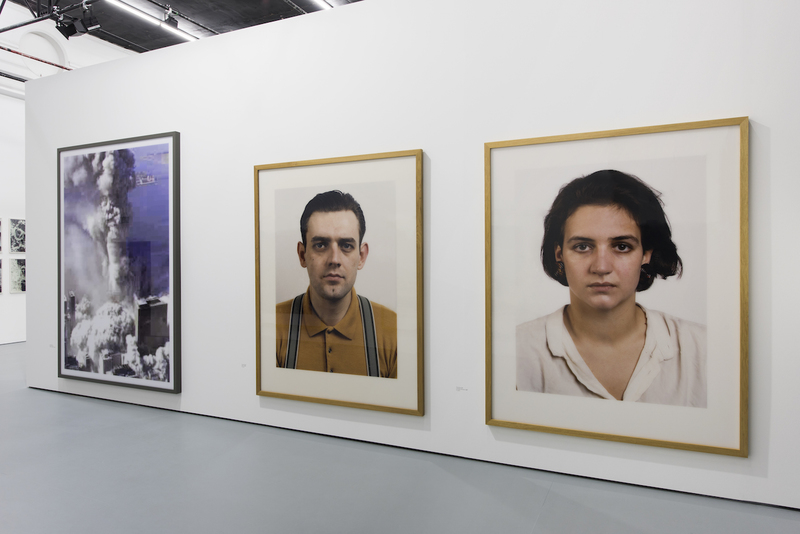 I decided to focus the show on artists mainly centred on North America (in particular Canada) and Germany. In Germany the 1970's saw the artists Bernd and Hilla Becher teaching in Dusseldorf, and they pursued an objective style of cataloguing the industrial landscape and infrastructure such as Water towers they saw around them. These were often shot square-on, and then presented in grids of images, and it linked closely to the seriality in minimal and conceptual art. Students of the Bechers in our exhibition include Thomas Ruff and Andreas Gursky, and while there work over recent decades has developed to use different methods and subject matter, there is still a strong connection to the idea of mapping the surface of the world in a somewhat impersonal or distant fashion. There are no informal snapshots. The Vancouver school is perhaps less unified, but artists such as Jeff Wall, Stan Douglas and Rodney Graham each pursued a more theatrical approach, that investigates in a more narrative-laden fashion the social agency of images. This use of actors and staging was done is a way that connected both to a postmodern ideas of artifice and the destabilising of authenticity, while also being acutely aware of art historical, modern and pre-modern iconography.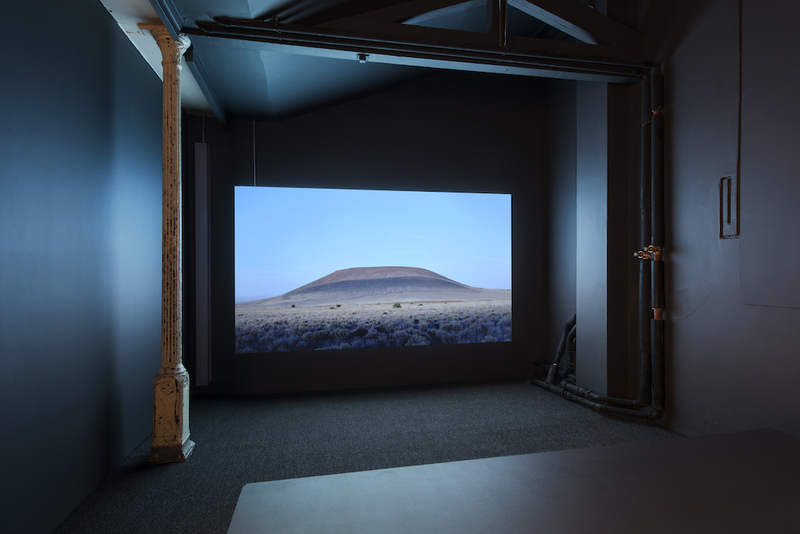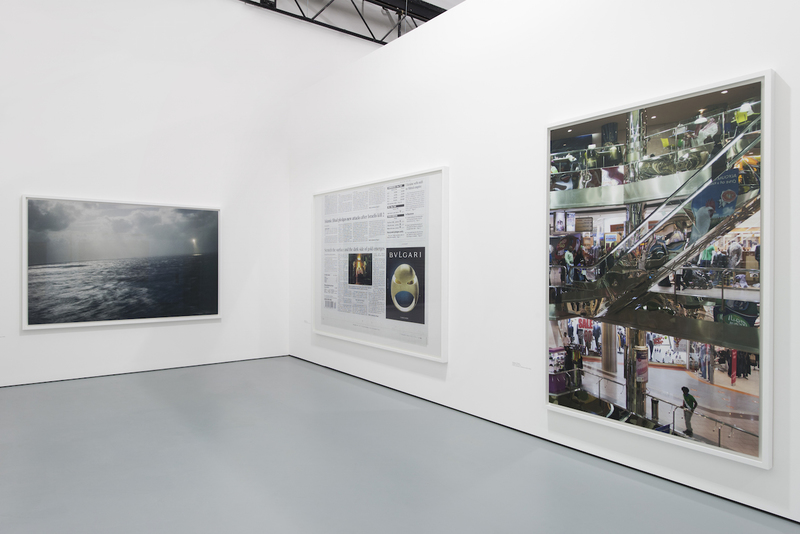 You Are Looking at Something That Never Occurred, 2017. Installation view at Zabludowicz Collection. Photo: Thierry Bal